One of my all time favorite shows is Fashion Police on E!
I thought it would be fun if I post my thoughts on the best and worst dressed celebrities of the week chosen on Fashion Police.
(P.S: The Scores are out of 10,
10 being the best and 1 being the worst)
Best Dressed:
Mark Von Holden/WireImage; Donna Ward/Getty Images; Jon Kopaloff/FilmMagic; Imeh Akpanudosen/Getty Images
My Thoughts:
-Jennifer Hudson
: I have always loved long sleeve short dresses on celebrities, and Jennifer wore this dress really well. I love her make up, hair, and accessories, they just complete the outfit. The shoes are where I have a little problem; personally I feel that she should of went with a different
color or style, but they are not horrible.
SCORE: 8
-Sarah Jessica Parker: I usually like what Sarah has on but I don't think this ensemble is the best. I do like it and I kind of see why they put it in the best dressed list, but it is not my favorite.
SCORE: 6
-Selena Gomez: I really think Selena looks great in this black sparkly short sleeve dress.

I

love how she put her hair up and the make up and shoes are spot on. Great Job!
SCORE: 9 or 10
-Rachel Bilson: I have seen almost every celebrity wear a nude or light pink dress on the red carpet. So I wasn't surprised when I saw Rachel in a light pink dress on the Best Dressed list. This dress is very cute, and fun and I think she styled it really well. The green clutch gives a pop of color and nude pumps are great.
SCORE: 7
My Choice of Best Dressed is...
SELENA GOMEZ
Who is your choice for Best Dressed?
Answer in the Comments Below
or
Vote at the Fashion Police Website.
Worst Dressed: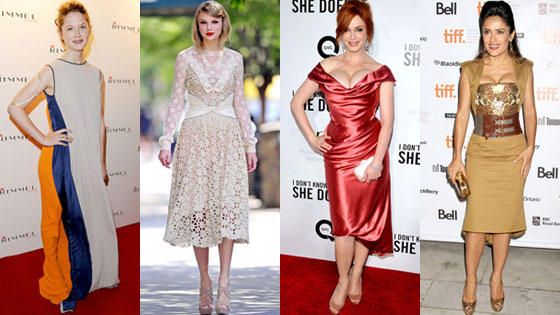 Dave M. Benett/Getty Images; PacificCoastNews.com; Stephen Lovekin/Getty Images for The Weinstein Company; Flynetonline.com
My Thoughts:
-
Bonnie Wright:
Could Bonnie have chosen a more unflattering dress? This dress does nothing for her body. For me it looks like she is wearing a bed sheet. What do you think?
SCORE: 1
-Taylor Swift
: Who would of thought that Taylor would be in the worst dressed list? I could see where she was going with this dress, but it does not look good on her. Good thing she wore a red lip or else she would have been washed out.
SCORE: 3
-
Christina Hendricks
: This dress speaks for its self. For me, the bottom looks like they forgot to cut a piece out. The top looks like they ran out of fabric to cover up the girls.
SCORE: 2
-Salma Hayek: Why does it look like Salma can't breathe or is uncomfortable in this dress? To be honest, the belt is ruining the whole outfit for me. Overall I think it is too much of the same color, but it is not the worst.
SCORE: 2
My Choice of Worst Dressed is...
Bonnie Wright
Who is your choice for Worst Dressed?
Answer in the Comments Below
or
Vote at the Fashion Police Website